Why buy art?
Art is magical. It fills your home with colour and energy and brings inspiration to your everyday. As well as a means to transform the feeling of a space, purchasing art is also a wonderful way to support artists.
There haven't been many opportunities this year to browse galleries and museums, which is why we have curated an exclusive exhibition to present talented artists and high-quality artworks. By choosing a piece for yourself or a loved one, you directly show artists how important their skills and creativity are, and you bring joy to your home (or someone else's).
Because we believe that art should be accessible, the works in the exhibition range from £200 to £3500 in order to fit different budgets.
How to buy online?
Collectors often buy artworks with the goal of decorating a home or working space. For this reason, we have included photographs that show the artworks in a living space, to illustrate the style and scale of a painting in a living environment.
When browsing the viewing platform, it is useful to consider different display styles for your home. Are you looking for a large piece to create a bold statement or a smaller piece with a more intimate feel? Are you building a gallery wall? How about choosing complementary pieces to hang together in the same room?
Every artwork is listed with size details to help you see where they would fit in your home, and our artists offer free video calls to show artworks up close and discuss how to fit particular works in your space. To compare works more easily and save your favourite pieces into one place, click on the 'heart' icon to create a list of your favourite artworks.
However, we strongly believe that when buying art, the most important rule is there is no rule! It is about choosing a piece that you love, and that transports you every time you look at it. The exhibition was curated with pieces that we hope resonate with visitors. When going through the list of works or the 3D viewing room, trust your feelings and any emotion the piece elicits for you.
Featured artworks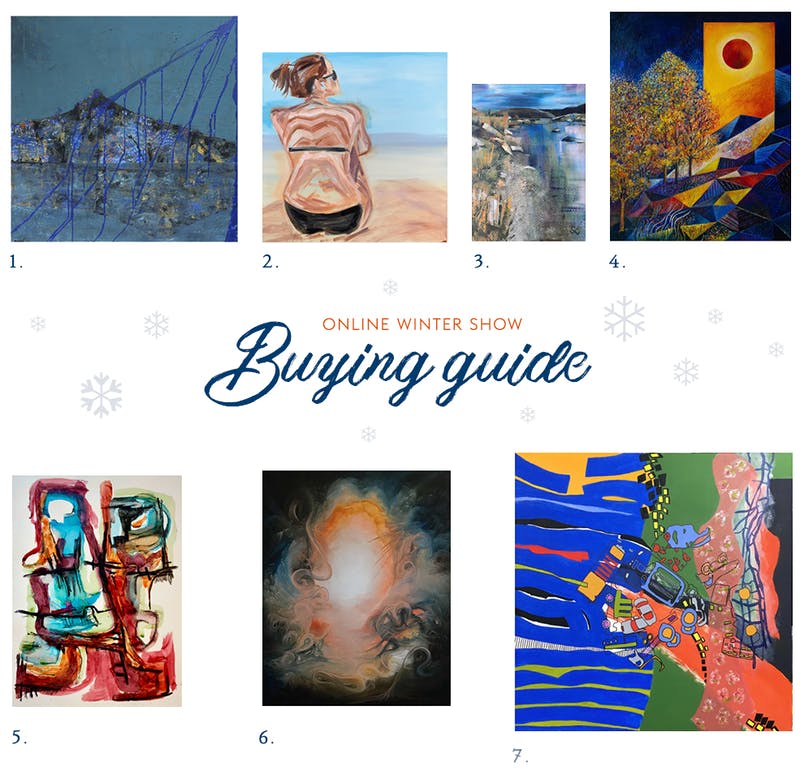 We have gathered 7 artworks of different styles and inspiration to help you get started. Access our online viewing room here to see the 40 artworks in the exhibition.
If you like…
Meditative landscapes - Sandra Menant, Fujisan at night (1.) 100 x 100 x 4 cm Chalk paint, acrylic, oil pastels and varnish on canvas - £ 2200
Elegant portraiture - Elise Mendelle, Beach Days (2.) 60 x 60 x 2 cm Oil on canvas - £ 260
Impressionism and nature - Susan Clare, Stickle Tarn (3.) 31 x 41 x 2 cm Acrylic on stretched canvas - £ 230 Bold and rich colours - Siméon Artamonov, Fontainebleau (4.) 61.5 x 76 cm Oil on canvas - £600
Colours and abstract - Felicity Swan, Tango 1 (5.) 55 x 76 cm Tempera, ink & compressed charcoal on paper - £200
Mysterious and mystical - Justyna Koziczak, The Birth (6.) 61 x 76 x 1,5 cm Oil on canvas - £ 500
A statement piece - Sue McQueen, Family (7.) 101 x 101 x 2 cm Oil on canvas - £1100
Each work also comes with instructions on how to safely hang it in your home. A frequent rule for hanging art is to situate the piece's midpoint about 60 inches above the floor. This can, of course, be adjusted to your preference, as well as for each work and space (for instance rooms with high ceilings). When in doubt, our artists will be happy to advise.